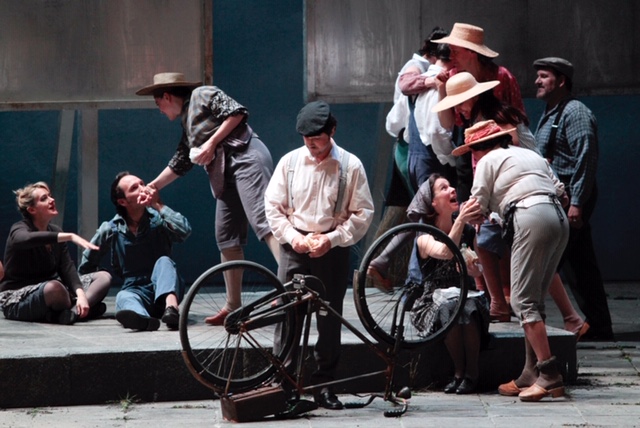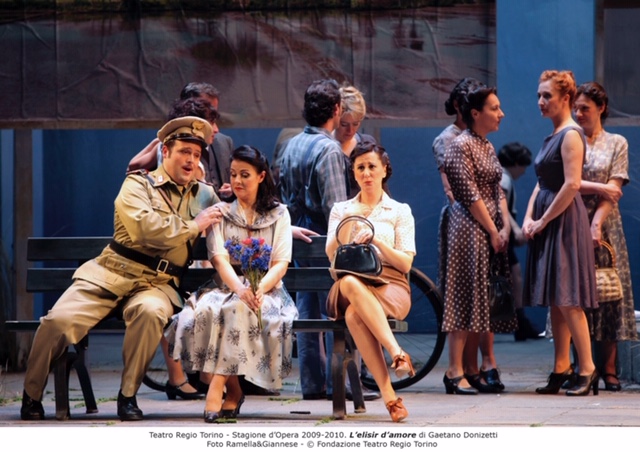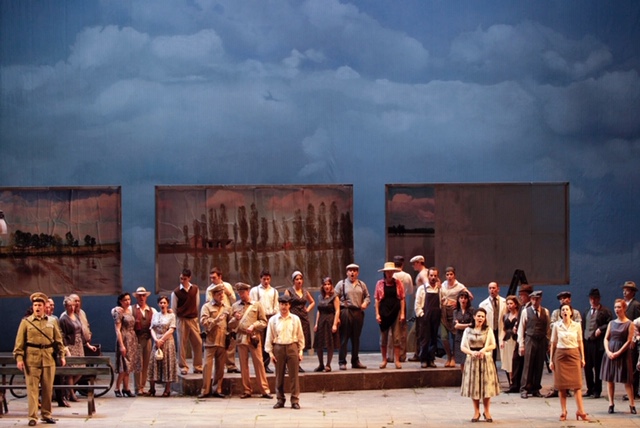 ARTISTIC SHEET
CAST
* Debut in ABAO
---
ARTISTIC TEAM
MULTIMEDIA
---
AUDIO
L`Elisir d`Amore Come Paride vezzoso Luca Salsi
L`Elisir d`Amore Chiedi all'aura lusinghiera Mikeldi Atxalandabaso, Rocio Ignacio
L`Elisir d`Amore Tra la ra, la ra… Esulti pur la barbara Celso Albelo, Mariola Cantarero
L`Elisir d`Amore Una furtiva lagrima Celso Albelo
SYNOPSIS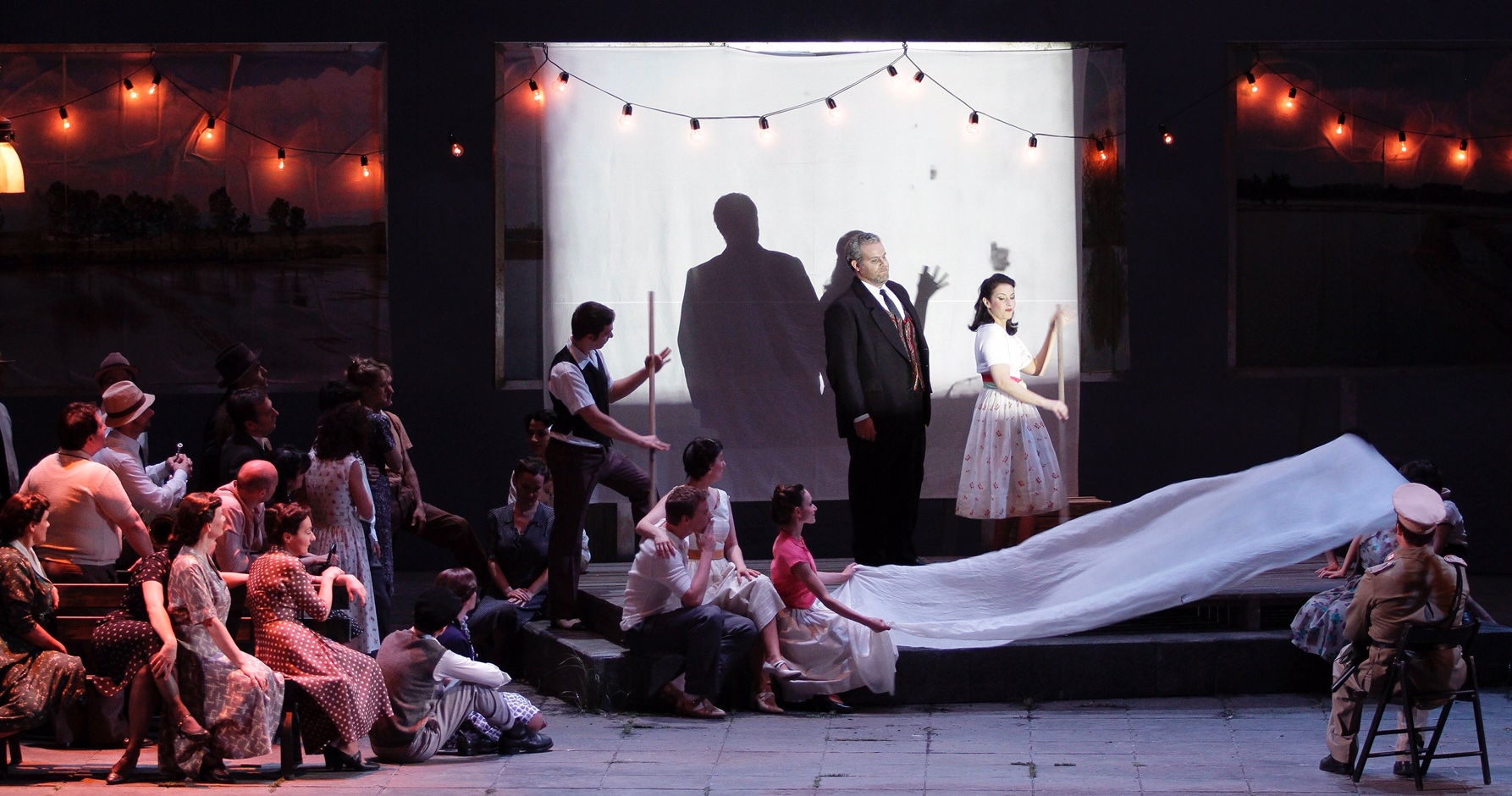 The peasants are resting after working at Adina's farm. She is reading, watched by Nemorino, who loves her, but he is too shy to approach her. Adina tells everyone that she has been reading that Tristan, who yearned for Isolde's love, drank a love potion which made her fall in love with him. A drum roll announces the arrival of the soldiers, led by Belcore, who gives Adina a bouquet of flowers and asks her to marry him, sure that no girl could resist the charms of a soldier. She declines the proposal and Nemorino, jealous, wishes he was able to approach her with the same confidence as Belcore. Adina offers wine to Belcore and his men.
Nemorino summons the courage to talk to Adina about his love, but she answers that she is whimsical and wishes to remain free, and advises him to go to the city to live with his rich and ill uncle. He confesses that he is unable to love as lightheartedly as she does. Then a trumpet announces the arrival of Dr. Dulcamara, who offers a potion which cures all diseases. Nemorino asks him if he has Queen Isolde's elixir and Dulcamara, who is puzzled at first, pretends to have just what the young man is looking for. He sells Nemorino a bottle of the elixir (which is in fact wine), and advises him to drink it slowly. By the time Adina arrives, Nemorino is already so drunk and ecstatic about the prospect of her loving surrender that he ignores her. She decides to remain steadfast and starts flirting with Belcore, finally agreeing to marry him within a week. She wants to provoke Nemorino, who still believes in the power of the elixir.
When Belcore receives the order that both he and his men must leave the town, he convinces Adina to marry him that very night. Nemorino begs in vain to have the wedding postponed until the following day, since he believes that the elixir will have taken effect by then, but Adina is determined to torment him and Belcore gets rid of him. Everyone except Nemorino accepts the invitation to the supposed wedding.
In the second act, which opens in Adina's farm, everyone is celebrating except Nemorino. Dulcamara sings a duet with Adina telling the story of a young girl who rejects a rich suitor because she loves a poor man. When the time to sign the marriage contract arrives, Adina is annoyed at Nemorino's absence, who tells Dulcamara that he cannot wait until the following day for the potion to take effect. The charlatan advises him to buy another bottle, but the young man has no money now. When Belcore finds out, he advises him to join the army, since he will receive money for it. He does so, to Belcore's joy, since, this way, he manages to distance his rival from Adina.
In a courtyard, Giannetta, Adina's friend, is telling the women peasants that Nemorino's uncle has died and left him a large fortune. They all gather around him but the young man, who has not heard the news yet, attributes the sudden interest he arouses in all the women to the efficacy of the elixir. Adina is furious because he no longer pays attention to her and Dulcamara starts doubting whether his drink actually awakens love. When the charlatan explains to Adina that Nemorino had bought the elixir to conquer the heart of a woman who rejects him, she realizes that Nemorino really loves her and regrets having treated him so badly. When Dulcamara realises that she also loves Nemorino, he decides that she too needs a dose of the potion to win back her beloved, but she assures him that she needs no elixir other than her own beauty, an irresistible weapon.