PRESENTATION
Lazos de sangre que rozan la locura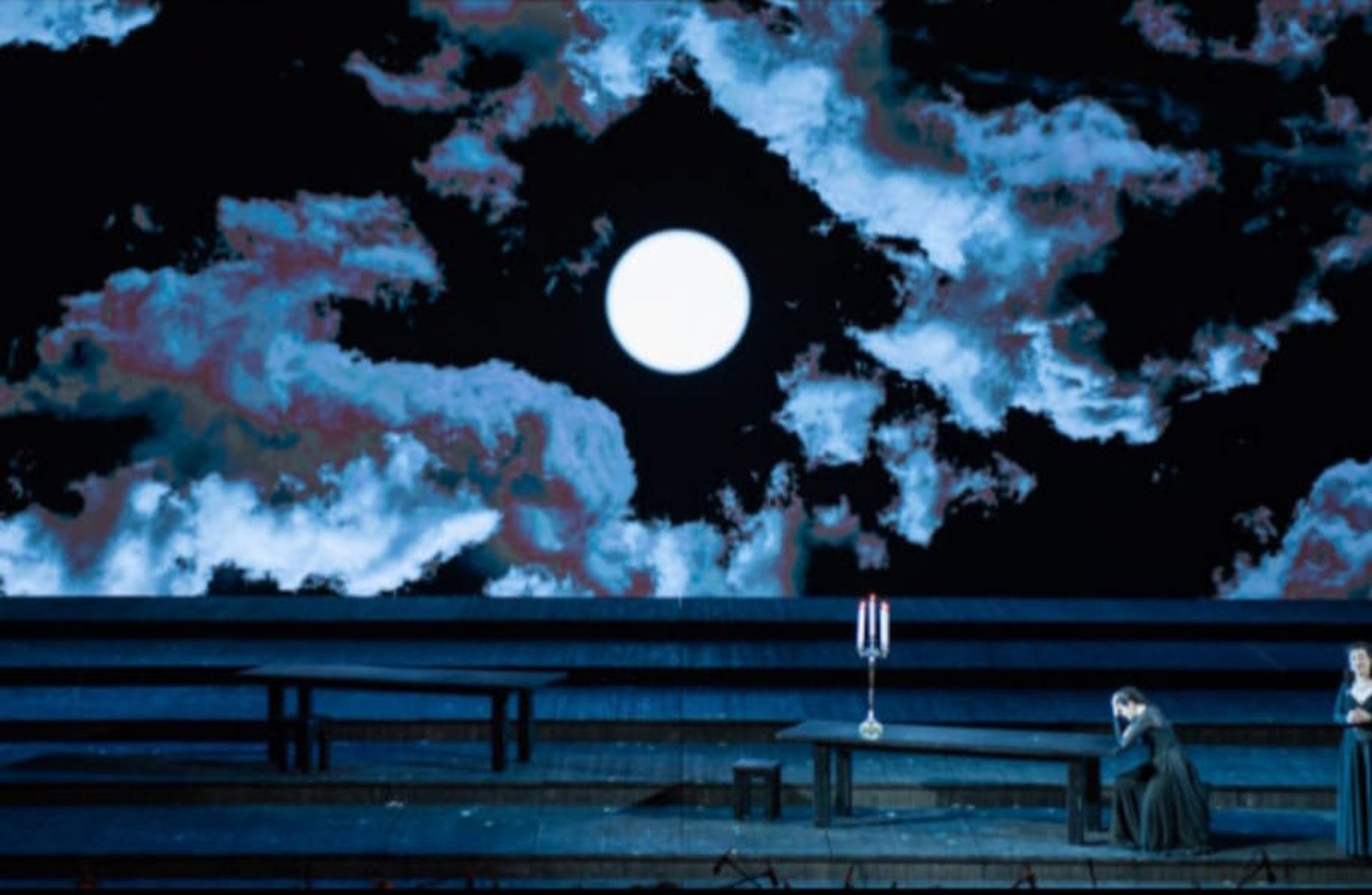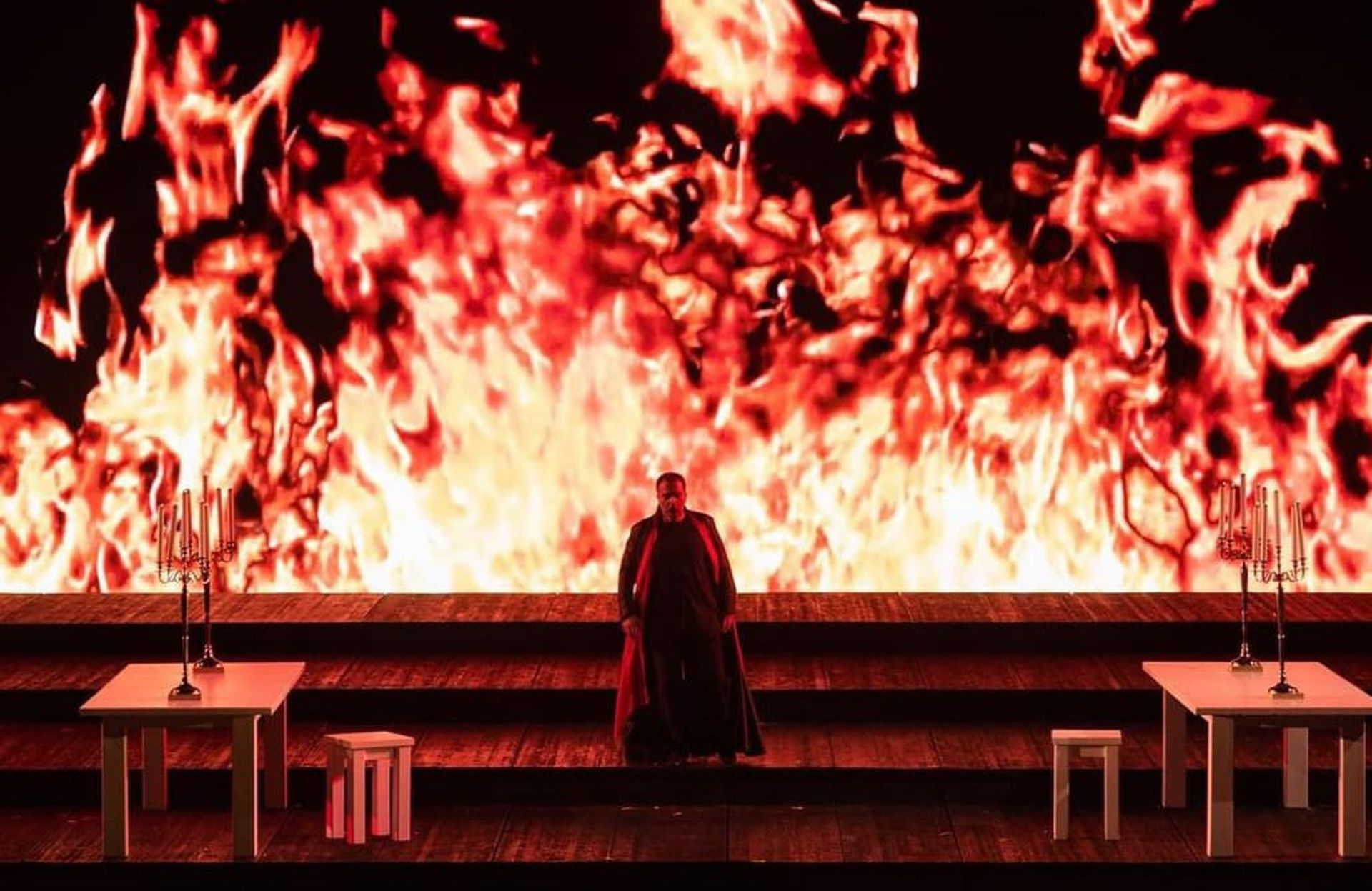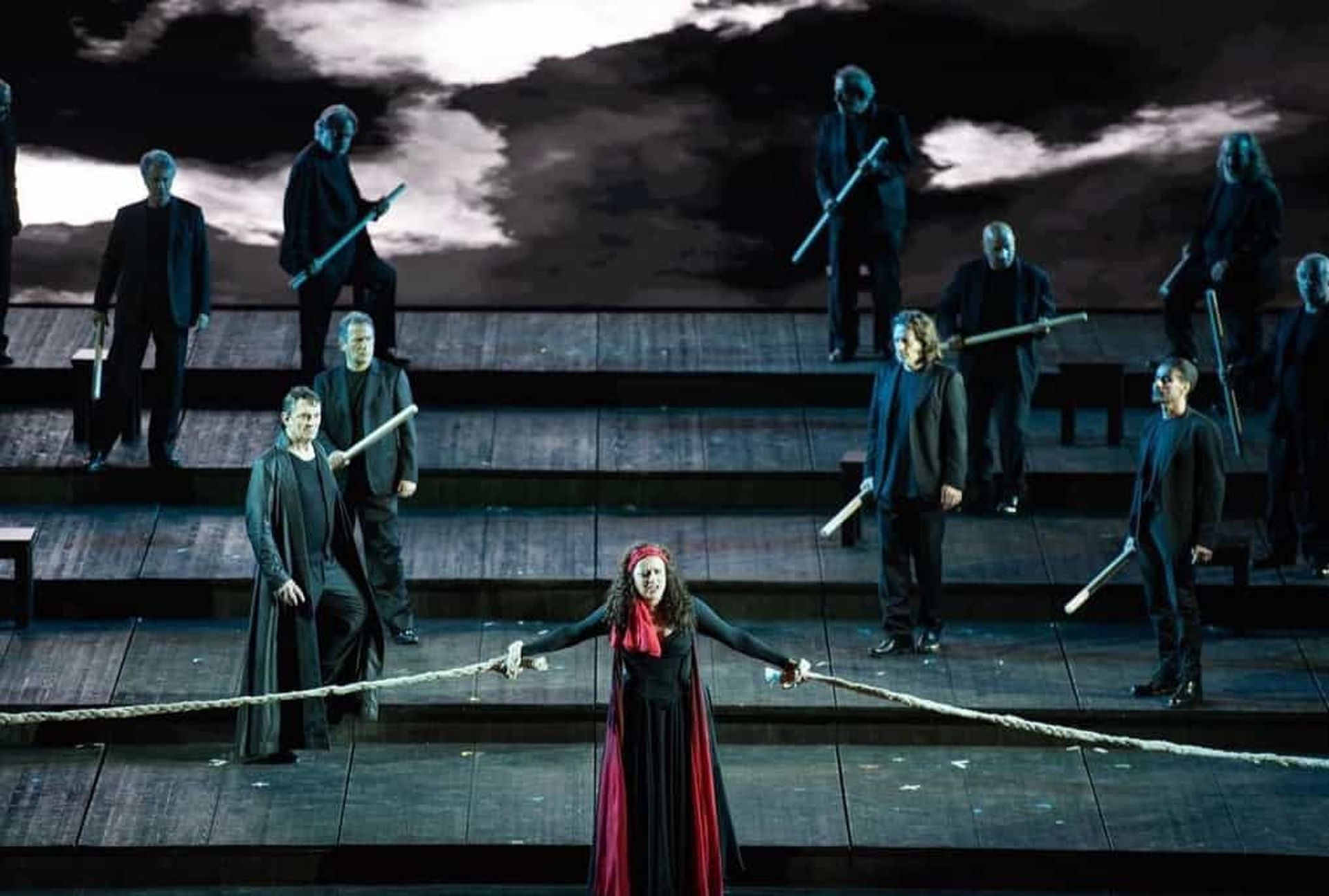 ARTISTIC SHEET
CAST
* Debut in ABAO
---
ARTISTIC TEAM
MULTIMEDIA
PUBLICATIONS
---
AUDIO
Il trovatore Ah si,ben mio Francisco Casanova
Il trovatore Il balen del suo sorriso Ambrogio Maestri
Il trovatore Mal reggendo all'aspro assalto Francisco Casanova, Irina Mishura
Il trovatore Mira di acerbe lagrime Vivrà contende il giubilo Fiorenza Cedolins, Ambrogio Maestri
Il trovatore Timor di me d'amor sull'ali rosee Fiorenza Cedolins
SYNOPSIS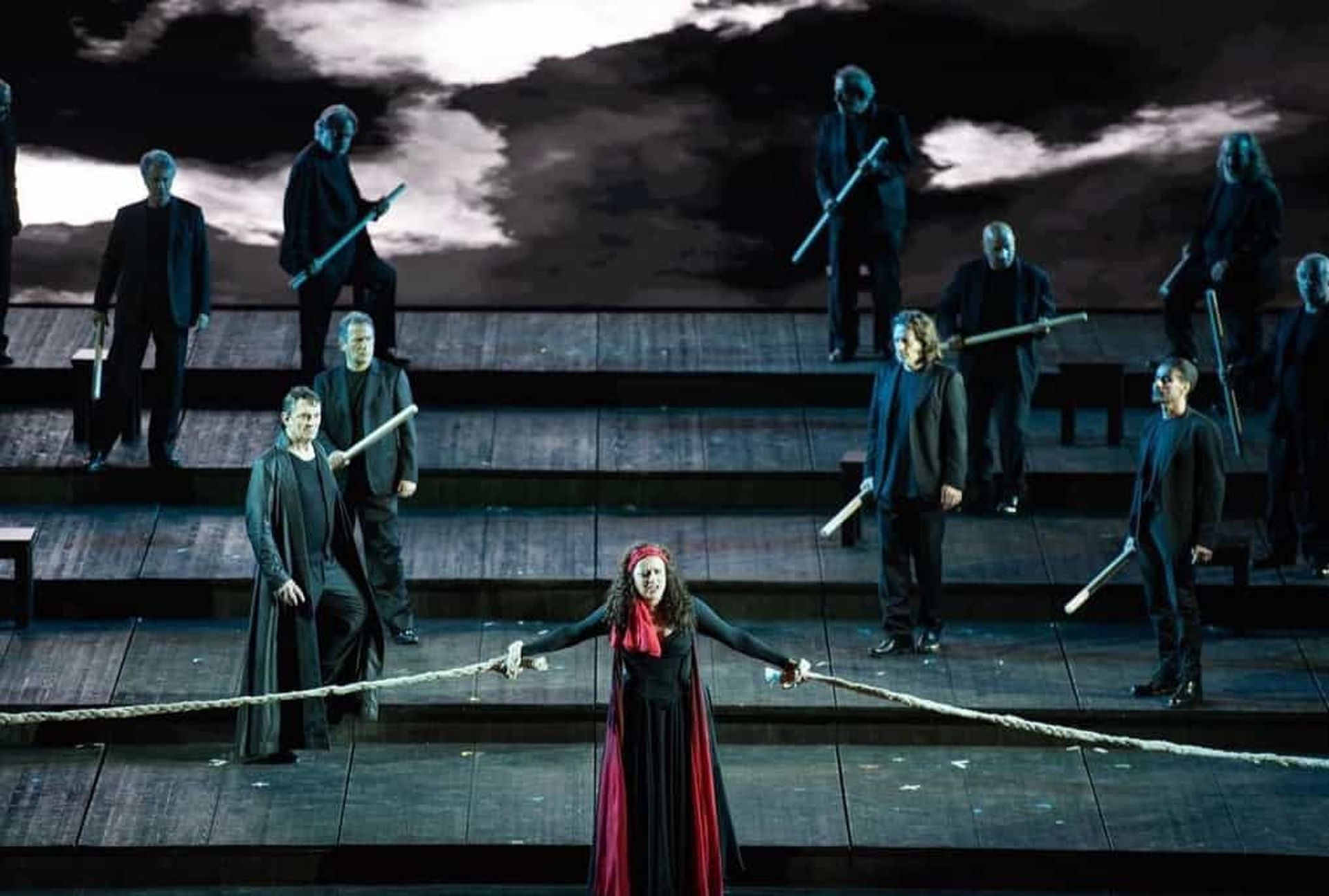 First Part: The duel
In the early 15th Century, in the courtyard of the Royal Palace of Aljafería, in Zaragoza, Ferrando, a Count di Luna's army officer, calls his soldiers to keep watch as the Count is jealous of a troubadour who sings in the palace gardens at night. To keep the soldiers awake, at their request, Ferrando tells the story of Garcia, the Count's younger brother: one day, when he was a newborn, a sinister gypsy woman was found leaning over his cradle. She was thrown out, but Garcia fell ill soon thereafter and it was thought it was due to an evil spell. The gypsy was then accused of being a witch, chased and burnt at the stake. Her daughter, fulfilling her mother's cries for revenge, kidnapped the ill child; the skeleton of a newborn was found amongst the smoky ashes of the bonfire. Even though they lost track of the young gypsy woman, her condemned mother's ghost would appear on certain nights in different forms.

In the gardens of the palace, Leonora, a lady in waiting for the Princess of Aragon, speaks to her maid, Ines, about her first romantic feelings. At the tournament, she saw a mysterious knight but, after the truce of the Civil War, she did not see him again until one day he reappeared as a troubadour serenading her. Ines tries to persuade her mistress to forget that foreigner, but Leonora declares that she is willing to die for him.

When they go into her chambers the Count appears, determined to declare his love to Leonora. His thoughts are interrupted by the troubadour's singing. When she hears it, Leonora rushes out to receive her beloved but, due to the darkness, she mistakenly approaches the Count. Just then, the troubadour appears and Leonora realizes her mistake. The Count's jealousy and rage increase when the troubadour reveals that he is Manrico, a partisan of the Prince of Urgel, that is, an enemy of the Count in the Civil War. When the Count and Manrico challenge each other to a duel, Leonora faints.

Second Part: The gypsy Woman
A cave at the foot of a mountain in Biscay. Azucena is sitting next to the fire and Manrico lies next to her. A group of gypsies announce the dawn of a new day and get ready to work. Azucena describes to them the horrifying torture of a woman burnt at the stake. When the gypsies leave, she tells Manrico how her mother was executed by the Old Count's men and how she responded to her cry for revenge by kidnapping the Count's son in order to throw him into the flames. However, she made a horrendous mistake: In her delirium of hatred and pain, she threw her own son into the flames. Manrico, scared, asks her if he is not her true son; Azucena quickly reassures him, pretending she had momentarily lost her mind due to the memories and, did she not look for him when he was badly wounded in a recent battle and has been taking care of him with dedication? Manrico then recalls his duel with the Count and how a voice from heaven prevented him from delivering the fatal blow against his rival; but now Manrico swears to his mother that it will not happen again. A messenger interrupts them to inform about Castellar's fall, and also that Leonora, believing that Manrico was dead, was about to enter a convent. In spite of his mother's warning, Manrico rushes out to try and find Leonora.

In the cloister of a convent, next to Castellar, the Count sings of his love for Leonora and, thinking that his rival is dead, decides to abduct her before she enters the convent forever. He hides behind some trees and, when the nuns appear singing a chant, Leonora bids her friends farewell. The Count seizes her but Manrico arrives and, after some initial confusion, Manrico's companions also appear and he manages to take Leonora away with their help.

Third Part: The gypsy woman's son
At a military camp, before starting the attack on Castellar, the Count's soldiers sing a war chant, while at the same time the Count bemoans his losing Leonora. Ferrando enters to announce that a gypsy woman has been caught when she was wandering near the camp. Azucena explains that she is looking for her missing son and, after being questioned by the Count and recognized by Ferrando, her true identity is finally discovered. The Count then vows to avenge his brother by condemning her to the stake.

In a room next to Castellar's Chapel, Manrico and Leonora are getting ready for their wedding, but the enemies' attack frightens the girl. Manrico calms her down: her love makes him stronger. When they are heading for the altar, Ruiz, one of Manrico's soldiers, rushes in to announce that Azucena has been condemned to the stake. Manrico decides to save her and orders his men to prepare to fight.

Fourth Part: The torment
A wing of the Palace of Aljafería. In front of the tower where Manrico has been imprisoned, Leonora swears her love to him. When she hears voices singing a Miserere joined by Manrico's voice bidding farewell, she vows to save him at all costs. The Count arrives and announces that Azucena and her son will die at dawn. Leonora then offers herself to him in exchange for Manrico's freedom. The Count happily accepts, but when he orders the release of Manrico, Leonora secretly drinks a poison hidden in her ring.

In his dungeon, Manrico tries to console Azucena, who is having nightmares about her mother's death again. The gypsy woman, in a slumber, remembers her past carefree life. Leonora appears and begs Manrico to leave immediately, but he guesses the true nature of the agreement she has entered with the Count and accuses her of being unfaithful. The poison starts to take effect: as she dies, Leonora explains to him that she has preferred to die with her love than to live with another. Manrico, full of remorse, sees Leonora die in his arms. The Count arrives and finds that he has been deceived. He orders Manrico's immediate execution and forces Azucena, who has awakened from her drowsiness, to look out of the window. When the axe has already fallen, Azucena tells him that he has just executed his own brother. Her mother has finally been avenged.