The consumption of food or drink inside the Auditorium is not permitted. Euskalduna Bilbao has various cafés which cater for all members of the public, both before performances and during the intervals.
Filming or recording of any kind are prohibited inside the Auditorium.
There is a free cloakroom service located at various points in Euskalduna Bilbao. In addition, next to the entrance doors to the Jauregia there are umbrella stands with a security system, since umbrellas may not be taken into the Auditorium.
The Euskalduna Conference Centre and Concert Hall has 8 spaces for wheelchair users behind boxes 3 and 4 equipped with elevating platforms and two other spaces at each end of row 6 in the stalls.

These spaces are only for wheelchair users and their companions (contiguous seat) if it is available.


These tickets are sold as season tickets as well as single tickets at the ABAO offices.
Please telephone 94 403 5000
To avoid the inconvenience of queuing at the car park pay machines when the performance finishes, an arrangement has been made with the car park operator to accept advance payment of €6, covering the period between 18:00 and 03:00 hours on performance days.

For this the user will have to pay before the start of the opera performance, by selecting on the screen of the car park pay machines the option "preventa" (advance sale, on the upper left of the screen).
ABAO Bilbao Opera has made an arrangement with the car park of the Zubiarte Shopping Centre for people who identify themselves as ABAO Bilbao Opera members, or who have purchased tickets for the opera, to pay in advance at the pay machines at a special rate of €4 for 6 hours' parking, on performance days. This option will be marked on the pay machines and the security guard will also be available to help users.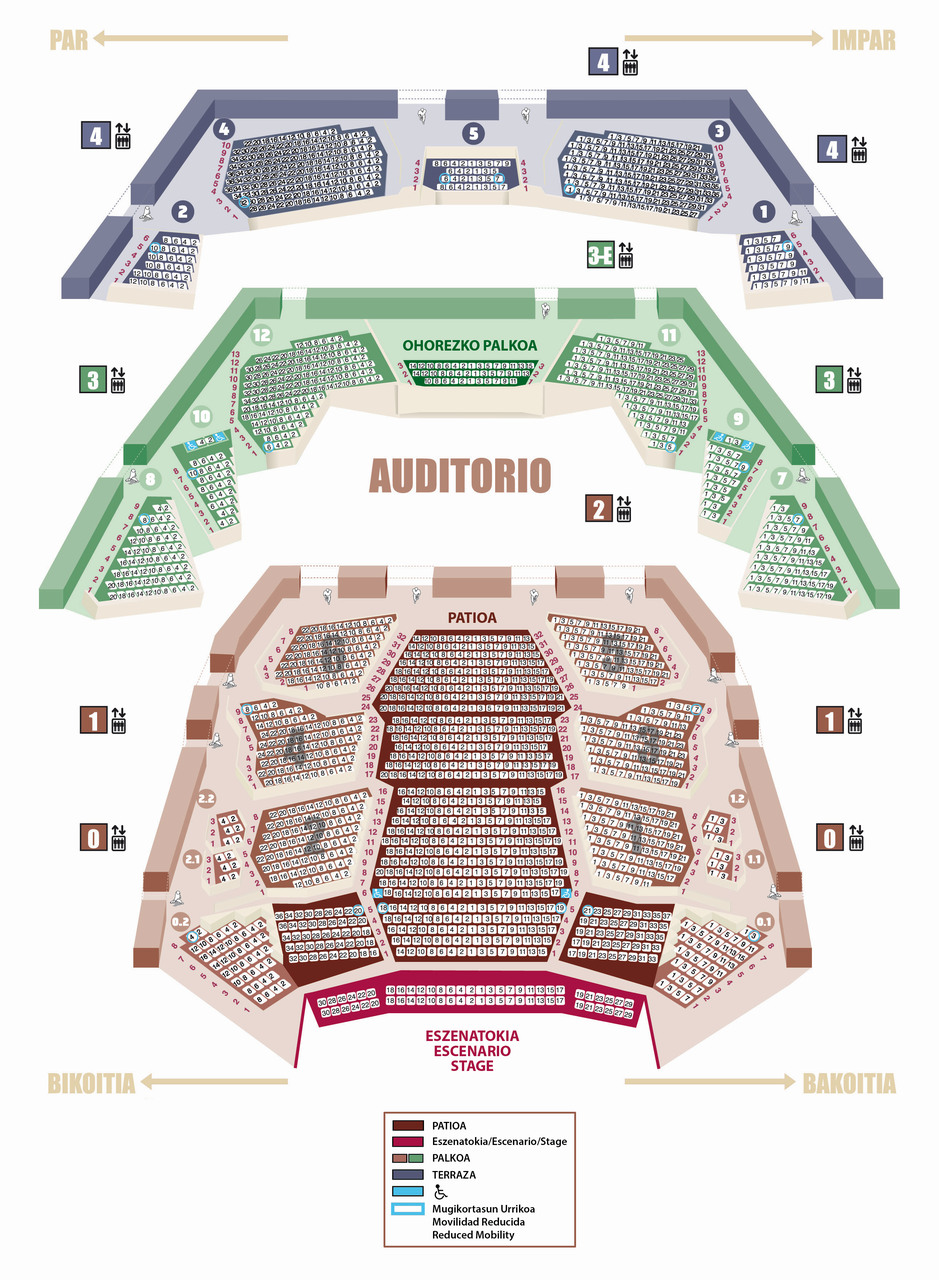 The hand-held programme contains a short summary of the plot of each act of the opera, and each performer's biography.

Free for members. General public € 5
There are booster cushions for children's seats, available in the various cloakroom service areas.
Once the performance has begun, the access doors to the Auditorium will remain locked until the first interval.

Latecomers may follow the opera in the television room situated next to Jauregia Café, or on the café's own television screen.

As a courtesy to the artistes and members of the audience, please remain in the hall until the artistic personnel on stage have finished taking their curtain calls.
On performance days in Euskalduna Bilbao, ABAO engages usherettes, who provide information to persons attending about access to their seats, and try to resolve any kind of incident that may arise.
There is a system which projects surtitles in Spanish and Euskara onto a screen.
Before you enter the hall, please make sure your mobile is switched off.